Award:The first prize of Jiangsu Science and Technology Award in 2019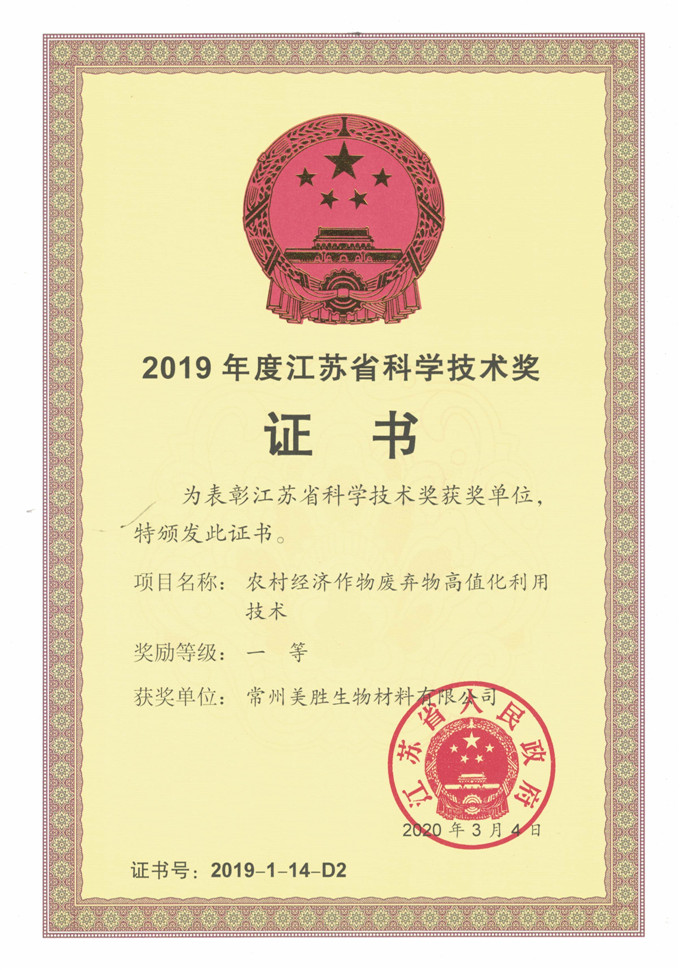 Project:
High-value Utilization Technology of Agricultural Economic Crop Wastes
Introduction:
In view of the regionalism and diversity of economic crops and wastes in rural areas of Jiangsu Province, a complete set of technology for comprehensive and cyclic utilization of crop wastes has been successfully developed. Through the research and development of the key techniques of physical strengthening, green extraction, separation and identification of natural plant dyes, the new plant dyes of panchromatic series are extracted. The powdering method of plant dyes with controllable purification degree is created and the first identification standard in China is established.Theefficient green dyeing technology based on stable quality improvement is realized, and the plant dyes instead of chemical synthetic dyes are applied to green printing and dyeing manufacture of high-gradetextiles such as cotton, wool, chemical fiber, etc.The extracted residues are pyrolyzed to prepare biochar slow-release fertilizer and other products. On the whole, this project owns high-value comprehensive resource utilizationtechnology and equipment, constructing"a new model of efficient cascade resource utilization of agricultural economic crop wastes with near zero emission".
The project is based on the rural areas in Northern Jiangsu Province and Liyang old revolutionary base area. At present, it has been popularized and applied to the poverty-stricken areas in more than 10 provinces and cities, including Guizhou, Shaanxi, Yunnan, Jiangxi, etc. It has also constructed a green, ecocyclic and sustainable mode of industrial association and resource sharing and achieved "green", "circulation","high efficiency"and "high value".
Significance:
The project aims to reduce the environmental pollution caused by agricultural and forestry wastesand efficiently utilizethem. It is beneficial to the construction of beautiful countryside and the increase in farmers' income. It will promote the upgrade of printing and dyeing enterprises and the realization of green manufacturing. Above all, the project will play an exemplary role in exploring green and high-qualitydevelopmentof Jiangsu Province, reducing environmental pollution in the production process of chemical dyes, solving problems concerning agriculture, countryside and farmers, and meeting the growing needs of the people for a better life.